How to Build an RFID Reader
Last Updated on Wednesday, 30 May 2012 05:47
Let's face it, even though there are a wide variety of RFID readers available, there are still implementations where an off-the-shelf system isn't "close" enough to meet the requirements. So what do you do when your project requires a UHF RFID-enabled device that just doesn't exist?
You build your own.
How to Build an RFID Reader
The RFID Network produced a 30 minute episode for our cable TV series titled, How to RFID Enable Anything. It includes segments from the below videos as well as additional information. You can watch it here:
Step 1: Choose Your Development Path
The first decision that needs to be made after you've decided to build your own reader, is your development path. More specifically, are you going to build a reader using:
Discrete Components or
RFID Reader Chip or
an RFID Reader Module?

There are a number of critical considerations when making this decision. We've put these considerations into what is one of the most technical videos on The RFID Network website. Ravi Pappu talks about how to build a discrete RFID reader, what it took to design the R1000 UHF RFID reader Integrated Circuit, designing RFID readers modules, and building RFID readers using all of these methods. This video is suggested for engineers - duration: 22 minutes.
Step 2: Select the RFID reader module best suited for your application
If you had to start from scratch, building your own RFID-enabled device would be extremely challenging. For this article, our team decided to use a UHF RFID reader module. There are a number of criteria that needs to be considered when selecting an RFID reader module. Part 2 of our video talks about these considerations in-depth.

Some of the considerations include:
Module Size
RF, Power, and Control Physical Interfaces
Number of RF ports
Regulatory certification
Application Programming Interface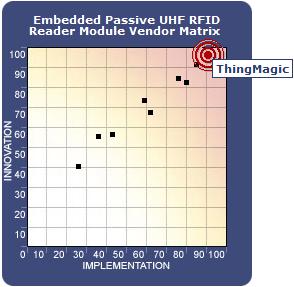 There are at least nine different manufacturers of RFID reader modules designed to make this task a lot easier. Our team selected the embedded RFID reader module family from ThingMagic, named by ABI Research as a leading vendor in both innovation and implementation of their embedded RFID devices. ThingMagic claims you can add RFID capabilities to your product, anything from a handheld scanner for inventory management to a pickup truck for real-time tool tracking or anything else you can imagine, using one of their RFID modules.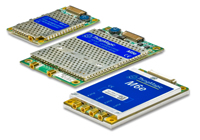 The ThingMagic RFID reader modules are EPCglobal UHF Class 1 Gen 2 and ISO 18000-6C compliant products. The M6e offers ISO 18000-6B and
IP-X as options.
These modules are designed to RFID-enable just about anything and pre-configured for regions all over the world, including: FCC (NA, SA) 902-928 MHz, ETSI (EU) 865.6-867.6 MHz, 869.85 MHz, MIC (Korea) 910-914 MHz, SRRC-MII (P.R.China) 920-925 MHz, and 'Open' (Customizable) 860-960 MHz.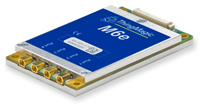 Mercury6e (M6e) embedded UHF RFID reader is designed to the performance standards of full size readers, but is small and efficient enough to be used in mobile applications. The M6e supports 4 ports and will operate to a level of +31.5 dBm. Serial and USB interfaces are provided to support both board-to-board and board-to-host connectivity.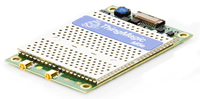 Mercury 5e is the embedded version of ThingMagic's best-in-class Mercury 5 RFID reader. About the same size as a PCMCIA Type II PC card, it concentrates Mercury 5's performance into a tiny package so you can design ThingMagic RFID into your own device. It is ideal for adding UHF RFID read/write capabilities to a wide range of devices, from high speed label printing to inlay testing to mobile and handheld computers.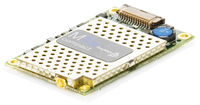 M5e-Compact is the smallest ThingMagic Mercury RFID embedded reader - about the same size as a compact flash card. It is ideal for adding UHF RFID read/write capabilities to battery-powered mobile printers and hand-held readers, where small size and low power consumption are essential and where the higher RF power and advanced anti-jamming capabilities of the Mercury5e module are not required.
These modules are already embedded into a wide range of form factors and applications, including ThingMagic's own stationary RFID readers. Moving beyond traditional, one size fits all RFID solutions, that there are several stationary and mobile printers from Zebra Technologies, a printer drawer assembly offered by Lexmark, an ultra-thin portal and a ruggedized reader designed developed by Venture Research, a number of handheld devices offered by several of their customers such as PanMobil's SCANNDYgun. There is also used a ruggedized tool tracking solution called Tool Link – based on ThingMagic's Vega reader - which they developed with Ford Motor Company and tool maker DeWALT.

Selecting the appropriate RFID module is such an important topic we have included details in a separate whitepaper titled 10 Criteria for Selecting an RFID Reader Module. Click the button to download the full whitepaper.
Selecting the appropriate RFID reader module just a first, albeit important, step to RFID-enabling your product. You also want to consider things like tag selection, antenna type, and of course application development tools to support rapid prototyping and solution development.
Comparison of RFID Reader modules
Step 3: RFID Tag Selection

How do you go about selecting the right tag (or tags) for your project? On a high level you need to, at least, ask the following questions:
What kind of assets are you trying to track? Paper, plastic, metal, liquids or some combination?
How/Where are the tags going to be mounted?
How are the assets moving? Conveyor, truck, pallet, fork lift? This is important in, not only determining the orientation of the tag, but what type of antenna your readers will require.
What does the project require in terms of tracking time (constant or periodic)?
What type of environment are the assets in? Is it a high metal content area such as a data center or warehouse? Or does the asset have to endure harsh environs going from dry to wet, cold to hot, etc?
Is it a closed or open-looped system?
Budget. How much is the customer willing to invest?
These are just a few of the questions that need to be asked to determine if you are going to use passive UHF labels or special metal mount tags vs. semi-passive, active or active WiFi. Many projects will be fine with some, or various, versions of passive UHF tags.
Related Articles:
Step 4: RFID Antenna Type
Another key system design decision is the type of antenna you will use with your RFID reader. Although there are many antenna types, they can be grouped into two main categories, circular and linear, referring to the polarization of the signal emitted.
The two antenna types have different advantages. A circular antenna reads from a much wider angle and a shorter distance than a linear antenna, and it can read tags in different orientations. A linear antenna can have better read performance and accuracy when the tag orientation is controllable. When designing your RFID system, it is important to identify the following design criteria:
How far will your reader be from the tags it is reading?
How well can you control the orientation and position of the tags?
How wide (or tall) is area over which you need to have read coverage?
For tighter control of the read-zone, or to read tags that may be on or near water / metal, a near field antenna may be a better solution than a far field antenna.
Step 5: Select, or build, an enclosure for your RFID module components and antennas
What should you consider when shopping for equipment enclosures? Here are several questions to ask:
What are the physical installation requirements?
Can the enclosure hold the equipment in the position needed for optimal performance?
Are there security requirements?
What is the cost?
We have written an in-depth article with accompanying video that may be helpful in this step: The Importance of RFID Equipment Enclosures
Step 6: Application Development Tools
Ok, let's do a quick recap. You've evaluated your project and determined that the project will use UHF readers. You've also determined what type of UHF tag to utilize and, subsequently, the most likely best choice of antennas needed for the reader. Using one of ThingMagic's RFID modules you are now ready to RFID enabled your product and go! Or are you?
Not quite yet. There's just one problem. How do you actually connect your antenna cables and other IO devices and get your product to write to and read tags? Well, let's not forget the software and IO hardware components. Or, more specifically, an entire set of application and hardware development tools. You can build or buy these hardware and software components yourself or utilize one of ThingMagic's RFID developer kits.
Getting Started: What Can You UHF RFID-Enable?
Using RFID modules and complimentary products you can RFID enable just about anything and for all kinds of applications. Sure, you can RFID enable a refrigerator for inventory and cold chain management or even a pick-up truck for tracking tools and other materials on a construction site. But consider some of the other potential applications such as:
Personnel Identification
Retail inventory management
Document tracking
Garment tracking
Sports timing
Vehicle tracking
Supply chain management and
IT asset tracking
If you'd like to build your own RFID enabled solution, no matter what it is, here's how to get started:
First, download our free whitepaper on selecting the appropriate module for your application;
If you have questions, contact ThingMagic for help at Develop@ThingMagic.com.
Have a great idea, then click on the button to the right and Take the ThingMagic Challenge by getting a development kit and sending us a short video of your own RFID enabled solution. The best videos will be featured in an upcoming episode of The RFID Network.