RFID Network Launches TV Series
Last Updated on Wednesday, 11 July 2012 19:57
We're now on 23 U.S. cable channels!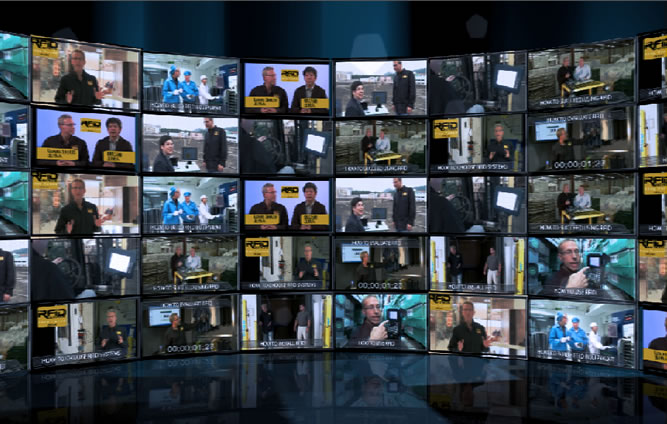 MOUNTAIN VIEW, CA, -- The RFID Network is pleased to announce a new TV series focused on how Radio Frequency Identification (RFID) technology is transforming our world. The RFID Network, a 30-minute educational television program, examines the exponentially expanding "Internet-of-Things", which refers to linking objects installed with RFID via the Internet, and features high-tech solutions filmed at locations all over the globe. The episodes scheduled for broadcast include: Covert Operations, Improving Food Safety, and Securing Sea Ports, with more shows in development.
The RFID Network TV show is on cable channels across the United States and reaches MILLIONS of viewers while the RFID.net website averages over 100,000 views per month.
The RFID Network TV Series #4: How RFID Improves Food Safety: Beef
Video Duration: 29:41 This article has been viewed
22235
times.
This article has been viewed
213912
times.

"RFID technology is ready for prime-time", said show host, Louis Sirico. "We are thrilled and honored to be bringing RFID to mainstream media in a manner that is both educational and interesting for everyone." RFID is used to identify mobile phones, airplanes, or any device connected via wireless communication. Each episode focuses on how it's improving people's lives. Before now, RFID technology has often been misrepresented by journalists that lack the technical understanding to differentiate fact from fiction and sensationalists monetizing public fear. The RFID Network engineers ensure the accuracy of every episode but in a manner that a non-technical audience can understand.
The cable TV series continues to be added to non-commercial, educational programming of cable TV stations throughout the U.S. Here's the most current station listing:
The RFID Network Cable TV Station Listing
| | | |
| --- | --- | --- |
| State | Area | Channel |
| California | Contra Costa | The Contra Costa Channel |
| | San Francisco Bay Area | KMVT |
| | LA / Long Beach | CityTV |
| Connecticut | Wallingford | WPAA-TV |
| Florida | Tampa Bay | TBAE - Tampa Educational Cable Consortium |
| | St. Cloud & Osceola County | SCTV Cable Channel 199 |
| Indiana | Kokomo | KGOV2 |
| Maine | Washington County | WCCTV |
| Maryland | Prince George's County | PGCC-TV |
| | Howard County | HCC-TV (Channel 96 Comcast & 41 Verizon) |
| Massachusetts | Amherst, Pelham | Amherst Media |
| | Somerset | SATV9 (Channel 9 Comcast) |
| Michigan | Livingston County | Charter Communications Cable TV Network |
| Missouri | Camdenton, Osage Beach, Eldon, Laurie | LAKE TV 32 |
| Nebraska | Available in 44 Counties | Great Plains Communications (GPC-TV) |
| New Hampshire | Nashua/Goffstown | Community Media Services |
| New York | Herkimer | HCTV |
| | Oneida | PAC 99 |
| New Jersey | Princeton | Princeton TV (Comcast Ch. 30 • Verizon FiOS Ch. 45) |
| North Carolina | Durham | DTV8 |
| Texas | Tyler/Whitehouse | VPN cable channel 18 |
| Vermont | Bellows Falls, Grafton, Westminster, Rockingham, Saxtons River, Athens, Brookline | FACTV8 |
| Wisconsin | Sevastopol | Sevastopol Channel 986 |
Please check your local listings for broadcast dates and times. The show is always available On-Demand to global viewers with TVs, computers, and mobile devices on The RFID Network website. Please bookmark this page or get our
FREE e-Newsletter
for the latest updates.
The RFID Network TV Series #3: How RFID Improves Food Safety: Produce
Video Duration: 28:30
The RFID Network is the only globally syndicated Television and video series devoted to Radio Frequency Identification (RFID) with versions in English and Mandarin Chinese. The RFID Network shows you how Radio Frequency Identification and wireless RF sensors can improve your business. We provide information, tools, and advice that help you decide what to buy and how to get the most out of RFID. Each month, tens-of-thousands of people come to RFID.net to:
Read the latest news, product reviews, and in-depth technical articles
Watch videos that demystify and demonstrate RFID
Learn from a credible, technical source about the products that solve their business challenges

Visit us on the web at http://RFID.net.
Media Contacts:
Geoff Zawolkow
Geoff@RFID.net
Tel: (650) 464-0874