RFID-Enabled Lift-Truck Solution Eliminates Operator Scanning
Last Updated on Tuesday, 11 October 2011 13:58
When a lift-truck operator moves something, they typically have to do at least three manual points of data entry, either by bar code scan or keyboard. Rush Tracking Systems claims that an RFID enabled lift-truck can perform the same move operation without any human intervention. In this edition we're going put that claim to the test and see if we can actually eliminate operator scanning in lift-truck operations.
Having trouble viewing this video? Try
YouTube
.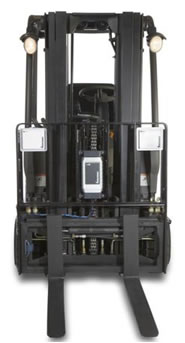 After many years of research, development, and prototypes, radio frequency identification (RFID) is finally going mobile in production on fork-lifts, clamp-trucks, and other material handling equipment (MHE). Rush Tracking Systems has combined industrial-grade RFID equipment, positioning technology, and their own state-of-the-art application software into a total solution called VisiblEdge™. Given an install base of more than fifty deployed systems, Rush Tracking Systems' clients are realizing huge benefits that will revolutionize industrial operations globally, including:
Eliminating human intervention such as operator bar code scanning;
Improving from 93% accuracy with manual scanning to 99.99% accuracy with automated scanning;
Mistake-proof product movements;
Improved inventory accuracy;
Improved shipping accuracy;
Improved confidence in your records;
Streamlined material movement processes;
Reduced material control effort
Manufacturing Challenges:

Labor-intensive barcode scanning;
Need for improvement, 93% accuracy of scans;
Misplacement of inventory;
Costly mis-ships

Solutions:

Hardware: VisiblEdge, combining industrial-grade RFID equipment and positioning technology
Software: VisiblEdge software from Rush Tracking Systems

Lean Manufacturing Concepts:

Eliminating waste due to misplacement, mis-ships;
Minimized movement of WIP;
Aligned movement along value streams;
Poka yoke; mistake-proof product movement
Empowered workers; lift-truck handlers freed from paperwork;
Inventory; buffer inventory minimized due to inventory accuracy
VisiblEdge™ is made up of both hardware and application specific software that is retrofitted on to your existing fleet of fork-lifts, clamp-trucks, or other MHE.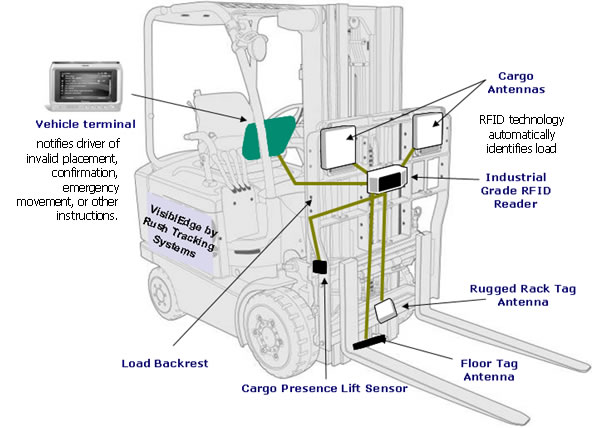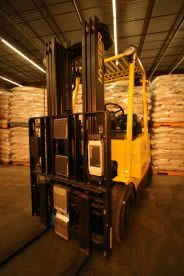 It uses an industrial grade RFID reader designed to withstand the shock and vibration that is common in industrial operations. The reader is attached to cargo antennas which are not only tough, but designed to read RFID tags in a 9-foot -high stack of pallets -- basically what fits in the full height of a trailer. It quickly identifies a single pallet, double stacked pallets, or even nine short pallets. Depending on the composite materials of the load, the contents can also be confirmed. For example, verifying paper and cloth materials being carried is no problem but a pallet of metal items can be tricky.
A rugged rack tag antenna is used to read RFID tags that are placed on the shelves where assets are stored. This allows the system to automatically verify the products are picked from the right shelf / slot location and record the shelf / slot location when products are placed there.
The cargo presence lift sensor triggers when the RFID reader turns on and off. It helps to eliminate reading tags on assets when the MHE drives by without carrying a load.

VisiblEdge™
Automatically determines and verifies:
When a load is picked-up;
What load is picked-up;
Where it's picked-up and where it's placed.
All without any operator scanning or typing
What ties everything together is the VisiblEdge™ software, which is developed by Rush Tracking Systems and runs on the vehicle mount terminal (VMT). It serves as the interface to the RFID reader and controls and coordinates all of the components.
It interfaces directly to any host system manufacturing execution system (MES), warehouse management system (WMS), enterprise resource planning (ERP), or middleware system by sending clean data in the form of standard EPCglobal EPCIS messages. To these systems, it basically acts like a bar code scanner reading serialized asset information and location data. The software on the VMT automatically cleans, filters, and buffers the RFID reads, so you don't have to worry about your enterprise systems being overwhelmed with event data.
If the VMT is connected to your enterprise systems using an 802.11 based wireless network, then it may be possible to provide near real-time feedback to the operator. For example, a $31 billion durable goods manufacturer has its warehouse in Charlotte, North Carolina and its enterprise system (SAP) running in Chicago, IL. The two facilities are connected using the secure corporate intranet. When an operator performs a move in Charlotte, the entire verification process takes no more than a few seconds before the operator has a confirmation from SAP on their VMT screen that came back from Chicago.
This is a big change for operators as they can focus on driving and not scanning. It provides significant benefits and quality improvements in the process. Let's look at a typical bar code based asset movement operation compared to the new process.
Typical Bar Code Based
Movement Process
Using MES, or WMS

VisiblEdge™
Integrated with a MES or WMS

Benefits / Improvements

Operator receives movement instruction on VMT

Same




Operator drives to pick-up location

Same




Operator manually scans bar code of pick location

Automatically scans pick location tag on floor or shelf

Saves 2 - 15 seconds
of labor time

Operator manually scans bar code of asset to be moved. Typically a product-level scan

Automatically scans asset tag to be moved - a serialized scan

Saves 2 - 15 seconds
of labor time

Enterprise system or WMS verifies location and product to ensure proper pick

Same




Operator picks up asset and begins driving to destination location.

Same




Automatically verifies load being carried a second time without operator action.

QA benefit without adding labor

Optional: verifies items, cases, or cartons being carried on pallet if materials permit.

QA benefit without adding labor

Automatically updates current location in-transit without operator action.

Benefit without
adding labor

Optional: automatically provides optimal route-to-destination directions on VMT screen based on current location in-transit without operator action.

Efficiency benefit without adding labor
Saves driving time

Operator arrives at destination.

Same




Operator manually scans bar code of put location.

RFID reader automatically determines location where asset is placed.

Saves 2 - 15 seconds
of labor time

Provides placement confirmation or invalid placement alert.

Same




Total Labor Time Saved:

6 – 45 seconds
The most obvious benefit is that the solution eliminates human intervention. An operator simply focuses on the move and they know they'll collect accurate movement data. Not only does this improve operational efficiency, it improves safety because the operator is focused on driving, not scanning.
Beyond the obvious saving by eliminating the labor associated with scanning, there are huge impacts to quality. The data is obtained without human intervention. Most people believe that bar codes are 100% accurate. This is not the case. It's not the scan that is the problem, but the inaccuracy due to simple human error (we forget to scan, we're tired and scan the wrong box, we miss counted and scan multiple times, we get distracted, etc.). These little errors have major impacts to quality and the resulting costs are not usually associated with the cost of a bar code scan. An incorrect bar code scan can result in:
inventory accuracy - add labor costs looking for items, inventory adjustments, cost of inventory

miss-shipments - over shipments which contributes to loss/shrink, labor costs to reconcile, shipping costs to return

customer service - added labor dealing with problem

reduced customer loyalty

line outages

part obsolescence

overage inventory
It is critical to consider quality when comparing the bar code process to the VisiblEdge™ process.
There are several methods used to determine the MHE position. The method used depends on the precision required: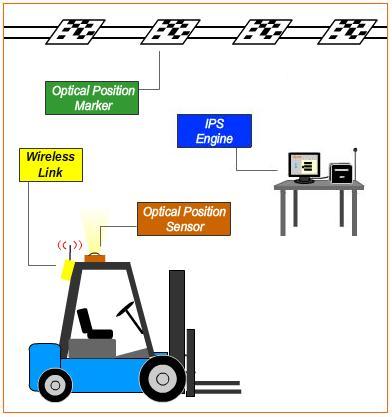 Option 1: Optical Position Systems
An Optical Position Sensor mounted on the top of the lift-truck and is aimed at the ceiling. It captures digital images of overhead position markers (OPMs). Contemporary machine vision software decodes the image to recognize location and calculates the orientation angle and exact position of the sensor.
A wireless link (such as an 802.11 network) transmits sensor data to a Controller server (shown right as IPS Engine) which collects location data from the positioning sensors on all lift-trucks. The Controller stores the position data in a standard database and makes it available in real-time for VisiblEdge.
The precision is based on the density of the overhead position markers. Up to one inch of accuracy can be obtained. Additionally, rotational orientation, direction of travel, and velocity is also determined.
To determine which bin or shelf location an asset is picked-up from or put-away in, either a height sensor or location tags are used.
Option 2: Real Time Location Systems
Since many operations already have 802.11 based wireless networks in place to connect VMTs to back-end systems, 802.11 based location systems are a common method of determining the position of the VMT. These solutions tend to yield approximately 15 ft of resolution depending on how many access points are installed and the density and types of materials in the facility.
To achieve finer resolution, proprietary solutions that use ultra-wide band (UWB) frequencies can achieve 1 or 2 feet of resolution.
Option 3: Global Positioning System (GPS)
If you have assets that are stored outside then GPS tends to be the technology of choice so long as there is a clear line of site to the sky. Keep in mind GPS is not going to provide the resolution of optical or a well designed UWB solution. GPS is a satellite-based navigation system made up of a network of 24 satellites. A GPS receiver must be locked on to the signal of at least three satellites to calculate a 2D position (latitude and longitude) and track movement. With four or more satellites in view, the receiver can determine the user's 3D position (latitude, longitude and altitude). Certain atmospheric factors and other sources of error can affect the accuracy of GPS receivers. Most GPS receivers are accurate to within 15 meters on average.
Inside, outside, or both?
If you have assets that are stored outside then you need to consider the environmental challenges as most lift trucks are not designed to go through heavy rain or snow.
Combining Methods of Determining Position
It's not uncommon to use more than one method to determine position. For example, optical can be used indoors and GPS can be used outdoors. This requires some device coordination but is absolutely possible.
MHE are on the move are not always connected
There may be times when a MHE that is moving around the facility becomes disconnected from the network. This could be due to null spots in the 802.11 wireless network. Be sure to leverage message queuing to ensure events are not only received but received in the sequence they occurred.
Click on a menu item below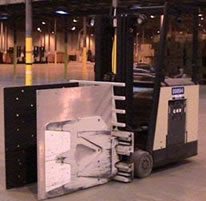 RFID portals will be an elemental building block in most RFID strategies, but RFID enabled lift trucks can provide better granularity within a facility. They work in those hard-to-reach locations such as rack storage, staging (i.e. assembly process), WIP storage, finished goods storage and staging, and holding areas.
If your operations use clamp trucks (see picture right) then vehicle mount readers are the way to go. Metal clamps reflect the radio waves emitted from RFID portal antennas and can pose a difficult challenge. Rugged antennas can actually be mounted into the metal clamps (see images below). The vehicle mount solution is also superior when stacking products that visually appear the same, but are actually slightly different, such as the rolls of paper in the picture.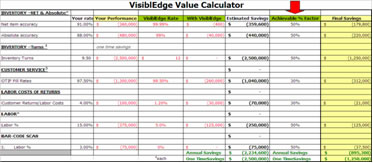 Depending on the hardware required, a vehicle mount solution can be from 0 to 25% more expensive than an installed stationary RFID portal. The variance depends on how much it costs for a portal to be installed. You may need to use an industrial enclosure, install bollards, run conduit, connect AC power, anchor and mount, etc.
If you can benefit from having better asset visibility within your facility, you should investigate the mobile solution. You may find that by outfitting half a dozen fork-lifts, you can get better visibility than you will with a dozen stationary readers.
Rush Tracking Systems has created a VisiblEdge™ ROI Calculator which allows you to enter metrics specific to your operations to determine whether or not you can benefit from this kind of solution. You can download it here.

VisiblEdge™
Summary of Benefits in Manufacturing and Distribution
Reduces human intervention (no scans required)
Reduces labor for data collection while increasing accuracy
Error proofs the movement process
Provides 99.99% accuracy
Increased confidence in movement tracking and existing legacy systems
Drivers focus on driving safely, not scans
Solution can be leveraged to provide operator with directed movements
Increased order fill accuracy because movements of product are automatically verified and tracked
Provide near real time feedback to the driver (invalid location, emergency movement, confirmation, etc.)
The manufacturers I mentioned above are using this solution for returnable containers & racks, bulk material movement, work-in-progress management, and electronic Kan Ban. In each operation, there is a dedicated fleet of MHE in place.
A $32 billion durable goods manufacturer went from 93% accuracy with manual scanning to 99.99% accuracy with automated scanning and has maintained that for three straight months. It has reduced labor, decreased cycle time by directing movements, eliminated errors sequencing, and greatly improved inventory and transaction accuracy.
The MHE operators love the solution because it simplifies their job and helps them reduce errors. They drive the trucks and don't fight the system; they rely on it. Most importantly to them, if they make a mistake, the product isn't left on the truck. Errors are typically caught within a couple seconds and quickly corrected, which eases their responsibly.
Many industries are seasonal. When the influx of work arrives, companies augment their operations with temporary drivers (may be employees or contractors). It is nearly impossible to put in enough training, discipline, controls to effectively bring the new people up to speed AND retain your normal accuracy. Many shipping and receiving process are handled with "institutional wisdom" or just "knowing that is how we handle things". Temporary labor won't have this kind of context so they make more mistakes. New hires are also an issue. When you can take the need for a human to give you the clean data out of the equation, the whole system stabilizes.
If you are interested in eliminating manual bar code scanning from your operations, then I encourage you to take a look at VisiblEdge™ by Rush Tracking Systems. Throughout this article, there are breakout boxes that list some of the benefits of VisiblEdge™ solution. Every capability described is currently supported. Plus, there are additional capabilities I've not even mentioned.
Rush Tracking Systems is offering a free assessment to see how VisiblEdge™ can eliminate operator scanning from your operations.
Author's Note: A big thank you to the entire team at Rush Tracking Systems for helping to write this article:Chuck Thompson, Walter Tucker, Scott Andersen, George Rothwell, and Toby Rush.
Do you have questions or would you like your product(s) reviewed? This e-mail address is being protected from spambots. You need JavaScript enabled to view it
I can speak first-hand about the need for RFID-enabled MHE, and some of the ways companies have attempted to jury rig solutions. In June of 2003, my team and I were asked to give a presentation on RFID technology to the board of directors at a manufacturing company. It would have been no big deal except the manufacturer wanted a demonstration of how RFID technology could replace all manual bar code scanning for inventory movement. After much deliberation, we decided the best way to do this would be to mount a RFID reader on a pallet jack. RFID-tagged pallets and cases would be scanned as they were picked up and their location would be recorded when they were put down. This was a pretty revolutionary idea at the time. If it could be done, it had the potential to change the way industrial operations are performed on a global basis.
To prove the concept, we constructed the Frankenstein-Jack: an off-the-shelf stationary reader with a single antenna mounted on a tri-pod, connected to an 802.11 wireless hub, plugged into a power strip, and duct-taped to a hand-jack. (See picture below-left.) As scary as this monstrosity appeared, it worked! We were able to read tags on every pallet we picked up, even though many of the products we were working with contained metal.
The customer loved the concept so much they funded us to do a pilot that involved fork-lifts and other material handling equipment (MHE). Obviously, Frankenstein-Jack wasn't going to hold up in the real world, so we tried building a better solution using off-the-shelf stationary readers and antennas. It was a disaster. Antennas were smashed, readers failed due to the shock of repetitive heavy impacts, and the cabling was a mess. We also had to use power converters so a reader designed to be plugged into an electrical outlet could operate using a battery or propane-powered MHE. Unfortunately, try as we might to locate one, there was no commercially available reader on the market designed for this kind of operation.
These physical challenges were only the beginning of our problems.
It is very difficult to read only tagged assets that are picked up, carried, or placed by the MHE. We had a hard time determining if a pallet was picked up or the MHE was simply parked next to it. Reducing the power to the antennas (attenuating the power) helped prevent reading nearby tags, but also reduced the read reliability of tagged assets that were being carried. We also had trouble reading a double stack of pallets.
Beyond knowing what asset is picked up, we needed to know where the asset is picked up from and even more importantly, where the asset is placed. That means you need to determine the location of the MHE as it moves around. Plus, if the asset is being picked or placed into a slot on shelves, you need to know the slot number. Is it on the second shelf or the fifth shelf? See picture right for an example. Things get even more complicated in facilities with bulk storage.
After a great deal of work, we decided that all these problems were going to need more time and effort to solve, so the project was put on hold.

For the next six months we searched for a RFID reader and antennas designed to be mounted on different types of MHE such as mobile pallet jack, fork-lift, turret-truck, and clamp trucks. In December, 2003 Matrics (now Motorola) gave me a demonstration under NDA of their Ruggedized Reader (left) and Teflon Linear Patch Antennas (right).

At the time, they couldn't sell any because it was being developed in secret for a customer they wouldn't disclose (now, it is common knowledge the client was International-Paper) We now have a video how the original system works, see below.
For the next few years, I waited impatiently for a commercially available reader, but there were only prototypes - nothing I could purchase. At every conference, I'd pester the same people at Symbol, LXE, and Intermec, asking "can I get one yet?" The response was always the same, "next quarter".
Now it's over six years later and I can actually purchase a rugged RFID reader designed to be mounted on MHE. Yet, an industrial reader only solved the physical challenges I described above. Two subject matter experts in our community, Scott Andersen and Walter Tucker, were part of the development effort at International Paper. Today, they are part of a team at Rush Tracking Systems that designed VisiblEdge™ and they have already successfully deployed hundreds into production operations and the adopters are realizing benefits never before possible.
The International-Paper RFID Lift Truck Solution Video
This article has been viewed 17548 times.