Intelleflex BAP Tags Shatter Read Distance Records with 120+ Meters
Last Updated on Wednesday, 29 August 2012 15:01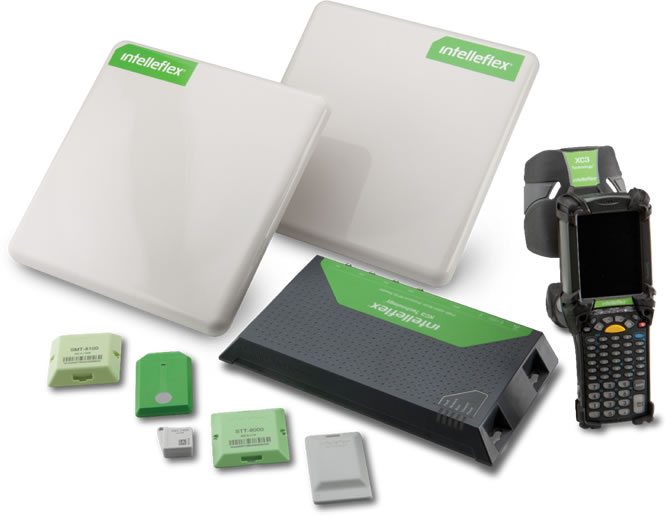 Typical passive UHF RFID tags read at distances up to 40 feet away. In previous tests, our engineers found that Battery Assisted Passive or BAP UHF RFID tags can be read from 160 feet away. Now, Intelleflex has shattered all of our read distance records with their BAP tags based on the ISO/IEC 18000-6:2010 Manchester forward link mode (sometimes referred to simply as "Class 3") BAP RFID standard. The tags include general purpose and on-metal asset tracking tags and a temperature sensor / logger tag.
In this edition of the RFID Network video series, we put the Intelleflex BAP RFID tags to the test.
This section courtesy of RFID Wikipedia.
Battery Assisted Passive (BAP) RFID or "BAP" as it's often referred to in the industry, combines features of both Passive RFID Tags and Active RFID Tags.
Traditional Passive RFID Tags rely on gathering energy from the RFID Reader's signal to wake up the integrated circuit (IC) and provide the backscatter required for identification. BAP RFID tags contain their own integrated power source, which is most commonly a battery. It's very important not to confuse BAP tags with Active RFID Tags. Active tags transmit a beacon at a defined interval. BAP tags do not transmit. The range is improved because no energy needs to be harvested from the reader to power the chip and all of the captured energy can be used for backscatter.
The ISO/IEC 18000-6:2010 Standard was approved by the ISO Committee and published in November 2010. Building on the successful EPC C1G2 passive RFID Standard's relatively simple, low power communications protocol, the new BAP Class 3 Standard enables capabilities previously only available with Active RFID Tag: long read ranges in excess of 100 meters, reliable performance in RF challenging environments, and support for sensors. For more detailed information, visit RFIDWikipedia.org.
Why Reader Sensitivity is Critical When Using BAP RFID Tags
Comparison of Intelleflex Battery Assisted Passive (BAP) RFID Tags
Intelleflex offers five different BAP RFID tags:
| Tag | Description | Industries | Applications | Battery Life* |
| --- | --- | --- | --- | --- |
| STT-8000 | General Purpose Tag | General Asset Tracking, Defense, Security | RF-friendly environments not involving metals/liquids including perimeter security, defense | 4 years |
| SMT-8100 | Metal/Liquid Environment Tag | Containers, Heavy Equipment, Trucking | RF-unfriendly environments around metals and liquids including container, RTI, railcar, gondola tracking | 4 years |
| TMT-8500 | Temperature Sensor Tag | Cold Chain, Perishables, BioPharmaceuticals | Temperature monitoring applications involving perishable foods, pharmaceuticals, biologics, florals | 2 years |
| BAT-8300 | Badge Tag | Personnel Monitoring, Hospitality | Personnel and guest monitoring in buildings, hospitals, recreation and hospitality venues | 5 years |
| FBT-8400 | Fob Tag | Asset Tracking and Personnel Monitoring | Key, carts, equipment and personnel monitoring | 5 years |
*Published battery life under normal use

Our team evaluated the STT-8000, the SMT-8100, and the TMT-8500. The BAT-8300 will be included in an upcoming evaluation focused on personnel tracking. The FBT-8400 was released after our performance tests were completed. Click on any of the above tags to download the datasheet.
Intelleflex TMT-8500 Temperature Monitoring Tag
The TMT-8500 is based on the ISO C3 (ISO 18000-6.1 C Chapter 11) and EPCglobal Gen 2 Class 1 protocols, with extended memory (60kbits) for data storage, and a microcontroller temperature sensing application. The tag can be configured to sample both the ambient or in-container air temperature at intervals at a rate between every one (1) minute and every five (5) days. It supports up to 3,600 temperature samples that can be logged in the secure sensor memory.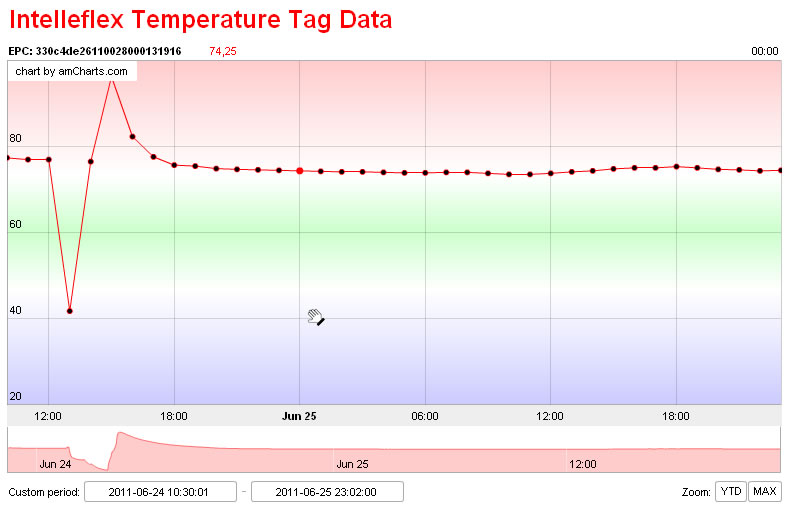 Our Battery-Assisted Passive (BAP) RFID Tags Performance Benchmark Tests
Since summer of 2009, our engineers have been benchmark testing and comparing BAP RFID tags to the most commonly used ISO 18000-6C passive tags to understand just how much difference the battery makes. These videos are still available on The RFID Network website.
In these tests, our engineers use circular polarized antennas instead of linear polarized antennas. Previously, our engineers used linear polarized antennas for maximum read distance testing because they can achieve further distances when tag orientation is controlled. Based on feedback from our audience, the tag orientation cannot be controlled in the majority of use cases. Therefore, we decided to use circular polarized antennas for these tests.
As with all of our tests, at least three trials of every test are performed. When possible, a different tag is used for each test in order to account for production variances. This also eliminates having a really good tag or a really bad tag that skews the results. Although tags may read briefly at further distances, each tag must maintain a 3 second read before the distance results are recorded. In some cases a tag would be read very briefly at a much greater distance than the recorded result demonstrates. Our team selected 3 seconds because it helps to eliminate tags reads resulting from stray reflections. We also preformed all tests outdoors so there could be no RF reflections from walls, ceilings, or floors. After extensive testing by our team of experts, the results were captured and the averages are calculated and published below.
BAP RFID Tag Maximum Read Distance Results
In our enterprise reader tests the Intelleflex STT-8000 general purpose asset tracking tag achieved an average of 123 meters (403 feet) which is 2.5 times further than our previous BAP tag distance record held by the PowerID PowerM. The TMT-8500 tag with temperature sensor and logging achieved an average of 121 meters (396 feet). Other tags tested include the PowerID PowerM RFID tag which achieved an average of 49 meters (162 feet) and the Omni-ID Ultra which achieved an average of 41 meters (135 feet). The Omni-ID Max HD achieved an average of 15 meters (49 feet). The Intermec Large Rigid achieved an average of 13 meters (42 feet). It's important to note that the last three tags mentioned are passive RFID tags and do not contain a battery. They are included to establish a reference.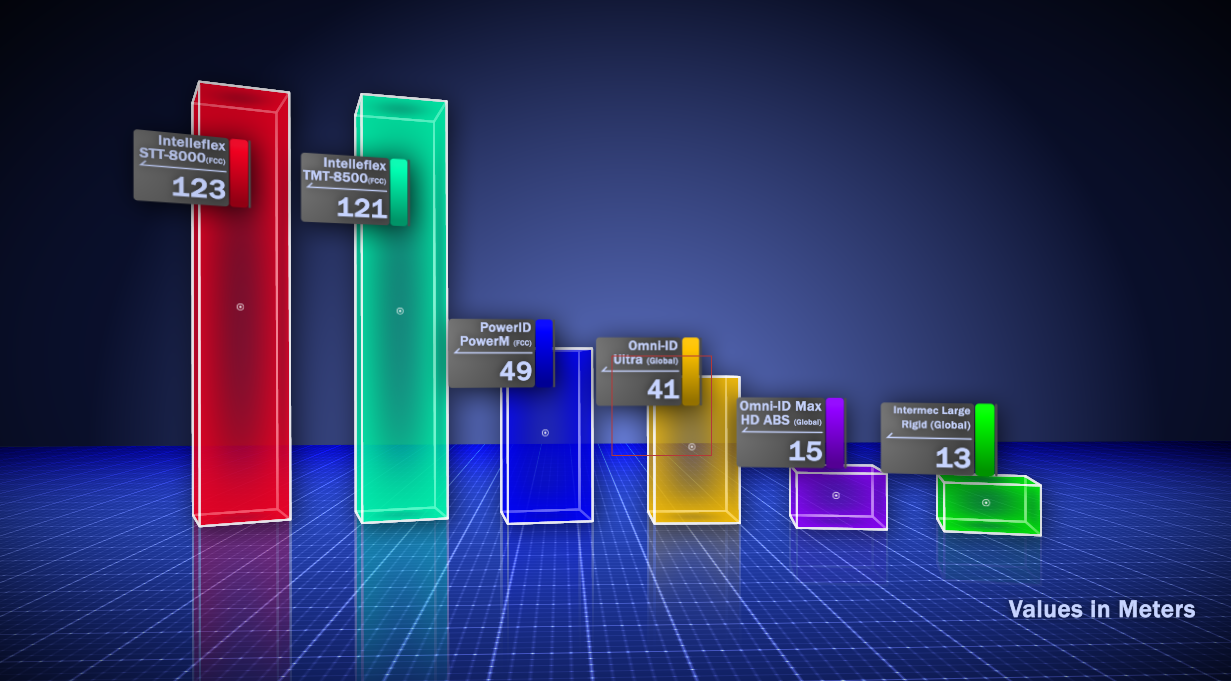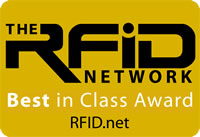 Product Rating:

Intelleflex shattered all of our read distance records with their BAP tags. Not only do the tags read 2.5 times further than our previous record holder, Intelleflex also provides more memory (60 kbits), temperature logging, robust security to protect tag data, and even an operator button. These features and performance alone are enough to earn Intelleflex a 5-star rating.
When our team considered that these same features and performance are only available in proprietary active systems, yet Intelleflex uses the class 3 standard and is priced at a fraction of the average active solution, we have to give them an RFID Network Best-in-Class Award.
If you are currently having difficulty achieving consistent reads in challenging environments with water or metal, or need to log temperature information, our engineers encourage you to try the Intelleflex BAP Starter Kit below.
Intelleflex Battery Assisted Passive (BAP) RFID Starter Kit
Our engineers performed pre testing using a Battery Assisted Passive (BAP) RFID Starter Kit from Intelleflex. The Starter Kit provides businesses with the ability to rapidly pilot and test Intelleflex solutions in real-world environments. The Starter Kit includes a choice of the Intelleflex FMR-6000 Fixed Reader or HMR-9090 Handheld Reader and four types of Intelleflex XC3 Technology™ tags which provide industry leading read range and read/write reliability. The Starter Kit also includes software and documentation that lets you easily pilot Intelleflex Extended Capability RFID solutions out-of-the-box without writing code. The Intelleflex Starter Kit includes:
One FMR-6000 Fixed Reader and one pair of antennas and cables

or
One HMR-9090 Handheld Reader
and
Five STT-8000 tags
Five SMT-8100 tags
Five TMT-8500 tags
Five BAT-8300 badge tags
Software for piloting applications
Documentation
The Intelleflex Starter Kit provides businesses with the ability to rapidly pilot and test Intelleflex solutions in real-world environments. The Starter Kit is not designed for software or application development. Application developers should utilize the Intelleflex Developer's Kit.