ThingMagic Mercury6 (M6) RFID Reader Makes Integration Easy
Last Updated on Monday, 07 May 2012 22:54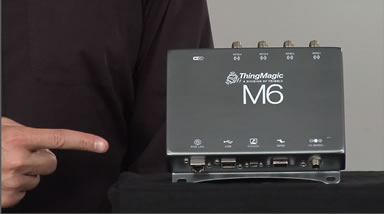 The ThingMagic Mercury6 (M6) is an enterprise-class, 4-port, EPCglobal Gen2 (ISO 18000-6C) multiprotocol RFID reader based on the Best-In-Class M6e embedded RFID reader module. The M6 now supports EPCglobal Low-Level Reader Protocol (LLRP), however, our team was intrigued by the common programming interface across ThingMagic's entire portfolio of readers, a capability we've not seen with any other RFID reader manufacturer. In this edition of The RFID Network, we put the ThingMagic M6 to the test.
Our Impressions of the ThingMagic Mercury6 (M6) RFID Reader
The M6 has a low-profile form factor (19 cm L x 17.8 cm W x 3.4 cm H), weighs only .9kg, operates from -20°C to +50°C, and has an IP52 rating, providing impressive protection and water resistance for industrial and outdoor environments. There are four RP-TNC antenna connectors with separate RF power read and write output levels, each adjustable from 5 dBm to 31.5 dBm (1.4W) with +/-0.5 dBm accuracy above +15 dBm. For interfacing with other devices, there is an HD15 isolated GPIO interface with 4 Inputs & 4 Outputs plus +5 VDC and grounded references.
PoE or Wi-Fi Support
The M6 can transmit at +5 to +31.5 dBm in both AC and PoE (802.3af in both modes A and B) powered options, which is the highest transmit power we've found for a PoE reader. Our team really likes the option for an integrated 802.11 b/g Wi-Fi network. Historically, we've had to build all kinds of work arounds to have the reader connect over wireless. Combine this with the ability to host on-reader applications and you have a complete solution in one box. More on hosting on-reader applications below.
Development Support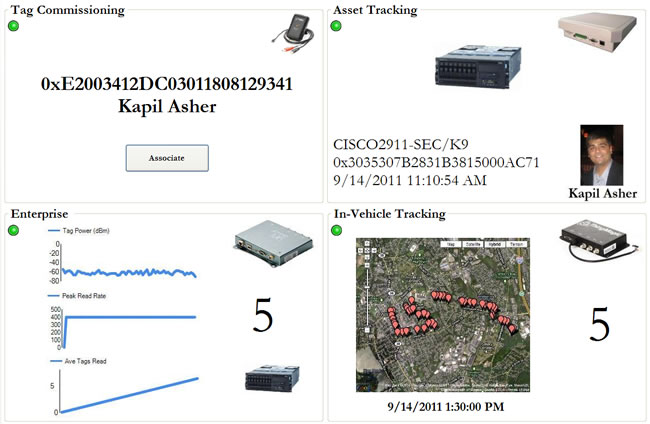 One of the strengths of the M6 is application development. The M6 has support for the LLRP v 1.0.1, custom LLRP extensions, and reader-hosted applications. It also operates with the ThingMagic MercuryAPI, which includes high-level developer interfaces in Java and C#. The Mercury API also provides a common programming interface across all of ThingMagic's readers. In our video product review, we build one application (see image right) that we were able to run on the all of the ThingMagic RFID readers: the USB desktop reader, the Astra integrated reader & antenna, the Vega in-vehicle reader, and the Mercury6.
Although our team is a strong supporter of standards, given the somewhat slow market adoption of LLRP, ThingMagic is the only RFID Reader provider that has a common programming interface across an entire portfolio of readers including: reader modules, desktop RFID reader integrated RFID reader, in-vehicle RFID reader, and 4-port enterprise-class RFID reader.
Reader-Hosted Applications
One of the features our engineers are particularly impressed with is the Linux-based operating system capable of hosting on-reader applications. This feature allows the M6 reader to perform application-specific actions independently, even when it is not connected to server. This makes it ideal for "partially connected" applications or environments when the reader is not always able to connect to a network. Combine this with the Wi-Fi feature and suddenly you have the ideal reader for use in something mobile, such as a cart. Readers without this capability need to have a mobile computer or always be connected to the network.
ThingMagic Mercury6 RFID Reader Price
The M6 list price is $1,395 USD for the Power over Ethernet model and $1,545 USD for the Integrated Wi-Fi model. Our team found an average street price below this In our engineers opinion, this is an extremely strong price point given the features.
Summary
ThingMagic Mercury6
RFID Reader
Product Rating:

There is a lot to like about the ThingMagic Mercury6 RFID Reader especially with the low price point. Given the form factor, the highest transmit power for a Power over Ethernet (PoE), optional Wi-Fi, support for LLRP and a common multi-reader API both with reader-hosted applications, our team gives the Mercury6 RFID Reader a five-star rating.