GPS Cellular RFID Reader Monitors Temperature & Talks Cloud
Last Updated on Monday, 07 May 2012 22:49
The Intelleflex CMR-6100 is a multiprotocol ISO/IEC 18000-6:2010 and EPC Class 1 Generation 2 RFID Reader that includes integrated GPRS and SMS Cellular Data Capabilities as well as GPS location information. Before now, if you required GPRS and GPS capabilities with a fixed position RFID reader, you had to piece together different equipment. The CMR-6100 has all of these technologies integrated together in one unit.
By combining this, the RFID reader is well suited for remote, unattended operation at locations where network access is not available or not allowed. This gives solution provides the ability to access RFID data from locations where data capture was not previously possible. Since GPS location information is also available, the RFID reader can even be mobile.
Peter Mehring, CEO of Intelleflex, visited The RFID Network in the studio and talked about new reader and cloud-based services. We also had an opportunity to put the cellular RFID reader and cloud services to the test.
Could the Cloud be the End of Middleware?
The ZEST™ Data Services from Intelleflex is a cloud-based repository for aggregating, warehousing, and sharing, actionable data across the supply chain.
Intelligent reader agents handle local tasks such as finding tags, collecting & checking tag data, setting traceability waypoints in tags, monitoring reader health, and reporting all of this activity to the Cloud. The reader agents also support business logic based on application needs. It can even run agents for GPIO interface.
In the Cloud, ZEST maintains agent configurations and management, enabling enterprise-wide remote management. It also updates reader agents, reader firmware, and provides interrupt level service to readers on command or schedule.
For some applications, this architecture eliminates the need for on-site server hardware, middleware, and IT infrastructure, which simplifies deployment and reduces cost. Our team will be writing a detailed follow-up article about impact of the Cloud on middleware in the weeks to come.
During our interview, Mr. Mehring emphasized that ZEST is a "partner-centric platform, designed to deliver value through partner applications". ZEST Data Services are resold through the Intelleflex partner channel. One of goals for ZEST is to eliminate the need to interface and manage devices using low level API's.
Performance Testing
Our team had an opportunity to do some performance testing of the Intelleflex CMR-6100 Cellular Reader. The CMR-6100 is built using the same design as the FMR-6000 that shattered all of our previous read distance records and earned an RFID Network Best-In-Class award: see article Intelleflex BAP Tags Shatter Read Distance Records with 120+ Meters.
We connected our reader to the ZEST data services using AT&T as a provider. The RFID reader comes with AT&T, but supports any standard SIMM card. We'd also like to point out the reader still has Ethernet which allows local access to data that can also be pushed to a cloud service. A cool feature Intelleflex added is the CMR-6100 may also be configured to capture and forward data from other devices (i.e. another RFID reader) to the cloud service via the cellular data modem. The Ethernet connection may be securely disabled.
Our team was pleased to see the flexible power options, supporting AC, broad DC supplies, with separate battery backup input - essential to a remote located RFID reader.
The Zest demo dashboard we used shows the status of all readers, what tags have been read, and their location. If a reader doesn't report in after a specified amount of time, or fails its' self-diagnostic, an automatic alert is generated. We had no problems with RFID temperature data automatically appearing in the dashboard both on our Windows laptops or our iPad. The graph of logged temperature over time is especially useful, especially when high and low temperature alerts can be set. The lag time was only a few seconds between when a tag was read and it showed up on the screen. The reader can be configured to call in a certain times, allowing batch operation. We found the interface very easy to use and intuitive. A complete demonstration of our testing is in our video.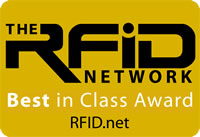 Product Rating:

In previous benchmark tests, Intelleflex shattered all of our read distance records with their BAP tags. Not only do the tags read 2.5 times further than our previous record holder, Intelleflex also provides more memory (60 kbits), temperature logging, robust security to protect tag data, and even an operator button. These features and performance alone are enough to earn Intelleflex a 5-star rating.
Since our team did this review, there are still no commercially available ISO/IEC 18000-6 based BAP solutions, with or without temperature monitoring.
Now, also consider Intelleflex has integrated into the same RFID reader design: GPS, GPRS and SMS cellular, for the same price as the previous RFID reader, we have to give them an RFID Network Best-in-Class Award.
If you are currently having difficulty achieving consistent reads in challenging environments with water or metal, or need to log temperature information, our engineers encourage you to try the Intelleflex BAP Starter Kit below.