HID Durable UHF RFID Tags Product Review
Last Updated on Thursday, 06 June 2013 11:54
This is the InLine Tag Ultra UHF product line from HID, featuring the Ultra, the Ultra slim, and the Ultra Curve. HID claims that these are all-purpose RFID tags that not only have outstanding performance on metal and contoured metal surfaces, but are extremely durable with an IK09 impact resistance, water proof housing, and are even designed to be welded. Our team has heard claims like this before and our testing has proven otherwise, so we're pretty skeptical. In this edition, we're going to put the HID InLine Tag Ultra RFID tags to the test.
HID InLine Tag Ultra UHF Durable RFID Tags Product Review

You may think of HID as an access control company, but HID actually has a broad range of RFID products. HID not only has their own manufacturing facility, but they design their own manufacturing equipment. Given the company's strong finanical performance, and consistant ability to deliver high quality products in high quantity in a timly manner, our team was happy to accept HID's challenge to put their UHF RFID tags to the test.
The InLine Tag Ultra UHF product line are durable, high performance, ISO-18000-6C and EPCglobal Class 1 Generation 2 compatible passive RFID tags designed for operation across the UHF frequency spectrum, which makes them well suited for international use.
HID InLine Tag Ultra UHF Durable RFID Tag Durability
All of these tags have an IK09 impact resistance, are water proof, and can be attached to metal or non-metal assets using adhesives, screws, bolts, or by welding. The Ultra Curve is specifically designed for contoured metal surfaces, such as fuel and propane tanks, which also makes them idea for applications such as beer keg tracking. The detail data sheet is available from the HID website. The specifications make the InLine tag family extremely versatile for asset management applications in a variety of tough environments.
Our team came up with a number of tests to see if these tags really do live up to the claims. Although these are all purpose RFID tags, we mounted the tags onto metal for these durability tests.
Liquid Tests: HID InLine Tag Ultra UHF Durable RFID Tag
We soaked the RFID tags in our own combination of aggressive liquids, including: motor oil, salt, sugar, abrasive cleanser, vegetable oil, fuel injector cleaner, vinegar, and laundry detergent with oxygen bleach, for a period of 25 hours. All of the tags read immediately upon removal of the solution.
We then power washed the tags at close range using a 1700 PSI pressure washer. Although our pressure washer only uses cold water, these RFID tags have an IP69K rating, which means they have been tested to survive high pressure washing at near boiling temperatures of 80° Celsius or 176° Fahrenheit. That would melt most RFID tags. Again, the tags read without any problem.
Impact Tests: HID InLine Tag Ultra UHF Durable RFID Tag
For our impact testing, we used exact the same tags used in the water tests. We repeatedly dropped a brick from 2 meters on each RFID tag to see how the tags hold up. Even with numerous direct impacts, the RFID tags showed no sign of damage other than a few scuff marks. Most importantly, they not only read without problem, we then used them for performance testing.
Read Range: HID InLine Tag Ultra UHF Durable RFID Tag
The RFID Network team tested the HID InLine family in numerous environments on a variety different products using both stationary and handheld RFID readers meeting FCC and ETSI regulations, including
Beer Kegs
Returnable plastic containers
Gas / Propane tanks
Waste / trash containers
Auto parts

Overall, the InLine Tag Ultra family had excellent read distances. The RFID tags use a patented 3D tag antenna which enables very good omnidirectional read range performance independent of mounting material.
The RFID Network is not alone in our findings. The European EPC Competence Center tested the read performance of these RFID tags and also found the tags to have consistent performance on all materials (see image right). The complete documentation available for download from the HID website.
HID InLine Tag Ultra UHF RFID tag samples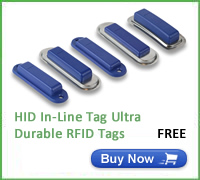 If you would like to try the InLine Tag Ultra product line, HID Global is offering free tag samples to qualified individuals which can be obtained exclusively through The RFID Network website. All you need to do is complete a brief survey.

HID Global is also looking to expand its RFID partner network. If you are interested in quantity pricing, or for more information, please contact This e-mail address is being protected from spambots. You need JavaScript enabled to view it or visit the HID website.