---
The CS101 Handheld RFID Reader Starter Kit offers everything you need to get started with RFID including a comprehensive suite of tools to enable you to rapidly design solutions that combine your handheld reader with an existing middleware or backend system. This starter kit contains manuals, special instruction guides, training sessions, and code snippets to speed up development. Purchasing this starter kit also entitles you to get additional demo source code and high priority source code development support, even custom help source code build.
Click here to watch our video product review of the CS101.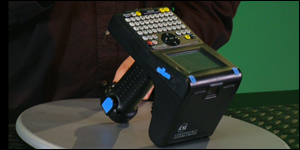 This Starter Kit is offered exclusively through The RFID Network and includes:
One CS101 Handheld RFID reader
Two (2) Rechargeable batteries
One (1) Battery charger capable of charging two batteries simultaneously
One (1) USB and one (1) RS-232 cable
One (1) 24V Power adaptor with power cord
Three (3) Straps: Single Sided, Cross Sided, & Wrist
Samples applications, Documentation, SDK, and source code available via download here.
Additional support via ticketing system and forum
See image below:
The CS101 is an ISO 18000-6C (EPCglobal Class 1 Generation 2) compatible handheld reader by Convergence Systems Limited. CSL markets this as a "crossover product" meant to replace a stationary reader. Based on the read distance performance our team has seen with other hand-helds, we were extremely skeptical.
Additionally, our team tested the CS501, which is an IP65 rated add-on module that adds quad-band GSM/GPRS cellular communication and global positioning technology (GPS) to the hand-held. This plug-in enables the CS101 hand-held reader to capture the GPS location of RFID tag reads in outdoor environments and then send the data using the same technology as a mobile phone.
Our Impressions of the CS101
The CS101 is a full-size handheld, yet well balanced and fairly light given its size and functionality. The current version is only 1 kg, which is lighter than the previous version we tested in early 2009. The unit is extremely versatile with a lot of input/output including:
a wide LCD touch screen (landscape orientation);
58 key QWERTY keyboard;
pistol grip with trigger button for one-handed operation;
802.11 b/g - Wi-Fi Network support;
a Micro USB 1.1 port;
an RS232 port;
and a SD expansion slot for BlueTooth or memory.
The CS501 module
The CS501 module mounts to the side of the CS101 handheld and adds 100g of weight. It has a ruggedized design with an IP65 rating and survives drop tests at 1.5 meters on 6 sides. The GSM operates Quad Band EGSM: 850 / 900 / 1800 / 1900 MHz. The GPS is SIRF3A. You need your own GSM/GPRS SIM card which inserts into the SIM card slot under the battery.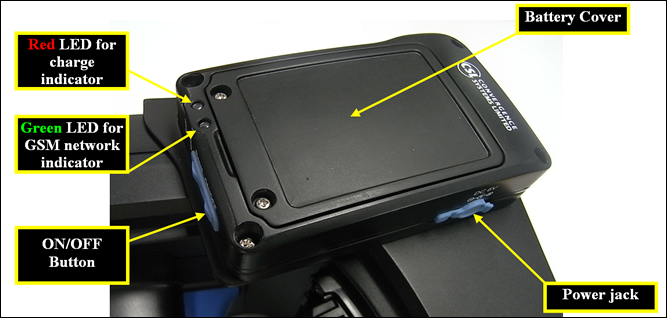 The handheld comes with two rechargeable Lithium polymer batteries, 1400mAh (a main and a spare) and an external battery charger. The battery charger accommodates two batteries at a time, allowing both batteries to be charged simultaneously – a nice feature. It took just under four hours for a full battery recharge.
The CS501 module uses its own battery instead of the battery from CS101. It comes with its own power adapter and normally takes around 1.5 – 2 hours for charging.
Our tests found that a fully-charged battery provides longer operations than the published specifications. We performed 145 minutes of continuous read testing and left the unit in standby for over 48 hours. Then, we had another 15 minutes of testing before the unit asked us to swap batteries. Given these results, one battery charge should easily accommodate typical use over an eight-hour work shift.
RFID Handheld Reader Benchmark Testing
Our team performed benchmark testing using tags designed for asset tracking as well as supply chain logistics. We evaluated only commercially available tags affixed to people, automobile windshields, cardboard, and metal.
Passive RFID Tags Tested with the CS101 RFID Handheld Reader
| | | | | |
| --- | --- | --- | --- | --- |
| | Small | Medium | Large | Container |
| On Metal: | | | | |
| On Cardboard: | | | | |
| On Body (person): | | | | |
| On Windshield: | | | | |
In addition, each test was conducted in both controlled orientations, as might be found in an assembly line; and uncontrolled orientations, as are typical in the use of hand-carried assets in a data center.
Software Used for Benchmark Testing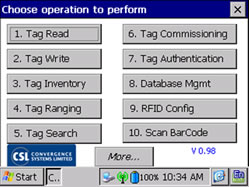 The CS101 comes pre-installed with ten useful applications including tag read, tag ranging, and tag inventory, which we used for these benchmarks. There is also a tag search function, which operates as a tag Geiger counter. The user enters an EPC code for a tag they want to find; then, selects the 'search' function. The reader scans for the specified tag and reports the tag signal strength as well as visual and audible indicators that change as the user moves the reader around in proportion to the signal strength. This function is very useful when searching for a specific item among a lot of similar items.
Maximum Range or Maximum Orientation Flexibility? Antenna polarization
The CS101 can have either a vertically-oriented linear polarized antenna (VP), horizontally-oriented linear polarized antenna (HP), or a circular polarized (CP) antenna. When you place an order, you specify your antenna preference. We selected a VP unit, which has a maximum range (when held normally, without being rotated) if the single dipole tags are oriented vertically. If the tags are not in the optimum orientation, the handheld must be rotated up to 90 degrees in one direction or the other to achieve maximum read range.
Linear or circular polarized antenna?
In the real world, when you are looking for something, you're going to move your hand all over. In most cases, it is better to have directional reads because it provides a longer read range. Typically, handhelds are used in applications with stacked items so orientation is known. For example, file folders are all stacked properly with the tags in the same orientation. Ultimately, always consider your requirements before making a selection.
Transmit power
The CS101 has variable transmit power, from a maximum of 1W (30dBm) down to a minimum of 0dBm (1mW) in 0.5dBm increments. The demo applications use the F4 and F5 keys on the upper right side of the keypad to adjust the power up and down.
Benchmark Performance Results : RFID Tag Read Distance
Our team tested two different CS101 hand-helds with a variety of passive RFID labels, metal mount tags and battery-assisted passive RFID labels. During all of our tests, we used the CS501 module to capture our GPS location. Once we read the tags, we sent this information to a PC via a GSM/GPRS cellular connection. We review our outdoor setup in the accompanying video. Overall, we were very impressed with the tag read performance achieved. The results with the Omni-ID Ultra ™ were most notable at 84 feet - an impressive read distance for a hand-held reading a passive RFID tag.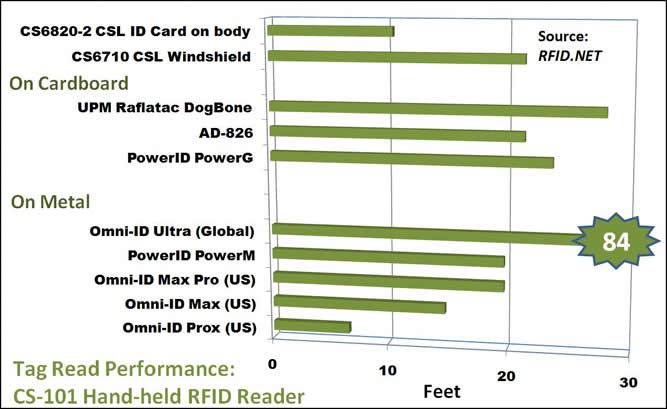 The GPS accuracy of the unit tested to 2.5 m or less and reported the location almost identical to a dedicated GPS receiver to which we compared it.
Given that we were able to achieve read range results of 84 feet, the tag search feature can provide a total search area of nearly 170 feet around an operator. Consider this when locating assets such as containers in remote areas especially when coupled with the GPS, and GSM/GPRS capabilities.
---
The Expert Perspective
"The CSL101 is a robust and rugged hand-held that reads better than any other RFID hand-held out there. But what our team really likes is the versatility. The CS101 supports many different peripherals, including GPS and GPRS/GSM which makes it more of an RTLS device. It doesn't seem as though the other vendors have really examined the platform or the applications for a RFID handheld, they simply added RFID to existing bar code hand scanners. CSL did a great job in defining use cases and then building a unit to support a wide range of applications. You don't sacrifice anything to get performance, flexibility or expansion capabilities. You get it all in one package." Joe Leone, RFID Industry Veteran
Built-in Connectivity
If you're not using the CS501 module, the CS101 hand-held alone comes standard with a micro USB 1.1 (12MBit/s) port and a RS232 (115K baud) port as well as wireless support (802.11 b/g). Bluetooth connectivity may be added using the SD card slot.
Given the Microsoft Windows CE 5.0 Professional operating system, wireless setup was a breeze using Network and Dial-up Connections. We securely connected to our corporate network (802.11g) in less than five minutes and found the performance to be very good. We maintained network connectivity outside our office building up to 50 feet from the wireless router through an exterior wall.
Bar Code Scanning
A 1D and 2D barcode scanner is integrated into the front of the unit. Our team focused the majority of our benchmark testing efforts on the RFID capabilities; however we tested a combination of narrow, wide, and dense 1D and 2D bar codes and achieved an average scan range of 8.5 inches.
Memory
The CS101 has a memory size of 128 MB Flash + 64 MB RAM. Available memory for user applications is 40MB Flash and 16MB RAM . The unit also supports up to 2GB extended memory space via SD Card slot.
Environmental
The unit is designed to withstand industrial operations, yet is appropriate for the retail or office environment. It has an IP65 Rating and can withstand a 1.5 meter drop to concrete in all 6 orientations. The operating temperatures are a very respectable -20 to 50°C and -40 to +85°C for storage.
Regulatory Certification
The CS101 has obtained the regulatory certifications from the FCC (USA and most South American nations), Industry Canada, CE (Europe), SRRC (China – also valid for Malaysia, Singapore, HK, etc.), NCC (Taiwan), MIC (South Korea), and Telec (Japan).
Final Impressions
The pre-installed applications that come with the unit are very functional and offer a great deal of value. We captured our read data to a text file in the unit's memory and later copied it to a file server via the Wi-Fi capability. This is particularly useful when importing tag read information in to a middleware application.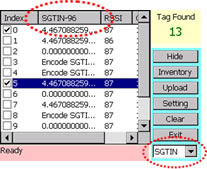 ezTrack Support
For companies that have facilities in Asia, the CS101 has built-in support for ezTRACK - a EPC/RFID standards-based globalized track and track platform operated by GS1 Hong Kong This means the reader can be used immediately for scanning EPC/RFID tags with 96-bit Serialized Global Trading Identification Numbers (SGTIN) and then have the tag data information uploaded to the ezTrack server.
Support
Telephone and email support is provided with a 24 hour response time.
---
The Expert Perspective
"We've switched over to the CSL hand-held for two reasons:
1) POWER -- it has a BIG antenna and a very sensitive reader. It's running the Impinj Indy chip set for RFID and we are getting read ranges of 20 feet on a typical 4"x1" RFID tag.
2) COST -- it's in the affordable range. Most handhelds cost over $5,000+ for RFID and 2-D Barcode. With the cost closer to $2,500 for a CSL, it's a feasible solution for asset tracking.
Those two features make it possible to do a lot of projects that would otherwise never get done. The read capability gives the 'locate' feature of handhelds a valid reason to exist." Carl Brown, President SimplyRFID.com
Summary
CSL has made real time asset visibility in remote locations easy and affordable. The CS101/CS501 combination captures the GPS location where RFID tag reads, bar codes scans, keyboard, or touch-screen operations occur and then instantly communicates that information using the same technology as a mobile phone.
A Best-in-Class Award to the CS101 / CS501
The CSL CS101 has outstanding performance, a rugged design, a plethora of features, and unmatched connectivity, all at a price point that's about half of what other manufacturers charge. That said, we award the CS101 for Best-in-Class RFID handheld readers.
Our team is not alone in our assessment. On January 6th, 2010, CSL was awarded the 2009 Asia Pacific Frost & Sullivan Product Differentiation Excellence Award for the RFID Readers Market. Sanjay Singh, Asia Pacific Vice President of Industrial Technologies Practice, Frost & Sullivan noted "the CS101 handheld RFID reader manufactured by Convergence Systems Limited (CSL) provides a new benchmark in terms of price performance ratio as well as in terms of portability without compromising on features."

If you're not familiar for Convergence Systems Limited, CSL is a global company that designs and manufactures a complete line of high performance RFID products that solve a variety of customer needs in a fast and affordable manner. CSL has won numerous awards including the Gold Award for the Most Innovative EPC RFID product from GS1 as well as the prestigious Hi-tech award in China.