---
The OMNITROL RFID Smart solution starts as low as $1,499 month and comes with a 6-month money-back guarantee. This package is offered exclusively through The RFID Networks and includes:
One OMNITROL software package
One OMNITROL appliance
One OMNTIROL Smart Touch Screen
One OMNITROL Smart Sensor box
One metal shelf
One RFID reader and four antennas
One hundred (100) work order tags
Twenty five (25) employee tags
Installation and user's guides

The OMNITROL RFID Smart Shelf package is a complete integrated RFID, sensor and software solution. The OMNITROL solution can be rapidly deployed in an industrial or office environment to provide immediate real-time visibility without impacting operational processes. The solution scales seamlessly from one manufacturing line to a complete factory and even across geographically dispersed operations.
Watch the video:
RFID Improves the Manufacturing of Guided Missiles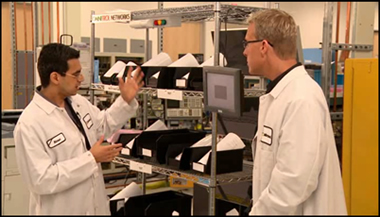 Benefits
Real time asset visibility
Improve manufacturing operations:

Increase on-time delivery
Reduce cycle time and WIP
Generate reporting and spreadsheets
Minimize impact on current operations or back-end systems

Collaborate with manufacturing, QA, and logistics
Improve customer satisfaction
Take decision based on high-integrity data
View real-time KPIs and analytics
3 to 5 months ROI with ultra-low TCO
Reduce supplier management costs
Manage suppliers by exception
Receive high-integrity real-time data
Manage more suppliers per resource
Interact with suppliers remotely
Eliminate manual spreadsheets or reports
Achieve better and faster decision making with 24/7 visibility and alerts
Coordinate deliveries across multiple suppliers
Limit impact to back-end systems
Reduce travels, meetings and calls