---
The Guardian Portals are the most complete and versatile RFID mounting structures available. They have a powder-coated 18-gauge steel construction that makes the unit well suited for any kind of industrial environment and are even fork-lift resistant. They are double-stacked pallet reading height, up to 96".
These portals are suitable for all heavy-duty RFID applications, such as DoD and Wal-Mart compliance, supply chain, warehousing, including cold storage and food processing facilities, pharmaceutical manufacturing, distribution, and inventory management.
These units are weather-resistant, with an RF-friendly, white ABS Radome cover that is held in place by 6 screws and can be easily removed for access to the components inside. All models come with openings for ¾" Electrical Metallic Tubing or EMT conduit connectors, Ethernet connectors and 10' power cord cable. They also have flexible antenna positioning along the poles inside the units. The Easy-Mount brackets have a hand-tightening knob to secure the bracket into position. The dual plane bracket has Laser-cut guides every 15 degrees for simple documentation of azimuth and elevation settings. Because the antennas can be tiled and aimed in various positions, you can rotate antennas to the exact position you need, one that provides the highest read rate with the least possibility of experiencing cross-reads.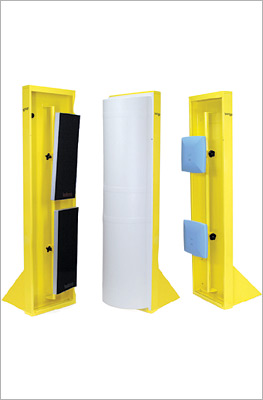 There are two models:
The RFID Reader cabinet (pictured right, center)
The RFID Antenna cabinet (Pictured right, on ends)
The RFID Reader Cabinet
The reader cabinet includes two flexible, Easy Mount® antenna brackets, reader plate, power outlets, terminal strip, cableways, awhite ABS cover, and reader power supply bracket. Using the easily-removable reader plate, just pull the pin and lift off the plate to be able to swap out or work on your reader. This is critical for rapid replacement and upgrades in mission-critical environments.
The RFID Antenna Cabinet
Antenna Mount Kit includes Easy Mount® brackets, cableways, and leg support stands. Holes are provided (and capped) for pulling cables at various locations or when using additional equipment such as light stacks and motion sensors. Brand and model numbers of antennas being used must be provided at time of order.
If you need a double-sided unit that reads in two directions, such as for space-saving requirements between dock doors, the antenna cabinet easily mounts directly to the back of the reader cabinet. The Antenna Cabinet is secured by four bolts to the Reader Cabinet, and cables are passed through openings at the back of each cabinet.
RFID Equipment Options
The units are hardware Independent, designed to accommodate RFID reader and antenna equipment from the leading manufacturers, giving you the most freedom in scalability and flexibility.
The units can be purchased as Plug and Play, completely outfitted with all RFID equipment and easily integrated into most back-end systems. All wiring, connectors, and cabling is in place. The units can be installed and set-up in as little as 30 minutes.
Optional Light Dome
Compact & unobtrusive
50mm in diameter
3 color (green, red, yellow) long lasting LEDs function with available steady audible tone
Size Specifications
Accommodates One (1) RFID Reader and up to Three (3) Antennas
Height 96"

Please watch the video How to Install RFID Systems Successfully: Guardian Portal for more in-depth information about this product.