---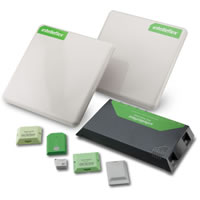 The Intelleflex Starter Kit provides businesses with the ability to rapidly pilot and test Intelleflex solutions in real-world environments. The Starter Kit includes a choice of the Intelleflex FMR-6000 Fixed Reader, CMR-6100 Cellular Reader or HMR-9090 Handheld Reader and five types of Intelleflex XC3 Technology™ tags which provide industry leading read range and read/write reliability. Intelleflex XC3 Technology is based on the ISO/IEC 18000-6:2010 and EPCglobal C1G2 standards for Battery Assisted Passive RFID. The Starter Kit also includes software and documentation that lets you easily pilot Intelleflex Extended Capability RFID solutions out-of-the-box without writing code.
Read our Product Reviews and Watch the Videos
GPS Cellular RFID Reader Monitors Temperature & Talks Cloud
Intelleflex BAP Tags Shatter Read Distance Records with 120+ Meters
What is included in this kit
The Intelleflex Starter Kit includes (click on the item to read the data sheet):

• One (1) FMR-6000 Fixed Reader and one pair of antennas and cables
or
• One (1) FMR-6100 Cellular Reader and one pair of antennas and cables
or
• One (1) HMR-9090 Handheld Reader

and
• Five (5) STT-8000 asset tracking tags
• Five (5) SMT-8100 tags for metal and liquids
• Five (5) TMT-8500 temperature monitoring tags
• Five (5) BAT-8300 personnel tracking badge tags
• Five (5) key fob tags
• Software for piloting applications
• Documentation

(Starter Kit prices vary based on type of reader selected)
The Starter Kit is not designed for application development but may be upgraded simply by adding additional software and documentation available directly from Intelleflex.