A Real Time Location Systems or RTLS typically refers to a collection of sensors that work together to automatically identify and track the location of objects (including people) in real time.
There are a number of technologies used to automatically collect location information:
GPS (Global Positioning System)
Wireless 802.11 based (Wi-Fi ID)
Bluetooth and Bluetooth Low Energy (BLE)
Active RFID (has a battery & emits a beacon)
Passive RFID (no battery, responds when interrogated)
Infrared
Ultrasound
and Ultra Wide Band (UWB).
It is not uncommon to use multiple methods of location for tracking different types of objects, even if the objects are nested (contained within each other). For example: a GPS system is used to determine the location of a cargo ship. An active RFID system may be used to track the shipping containers. An 802.11 based system may be used to track the position of the personnel and lift-trucks moving items around a ware house. An Ultra Wide Band Solution may be used to track hazardous materials in a refinery. These are just a few examples. The RFID Network recommends conducting an analysis before deciding which solution best fits your requirements.
Enterprises achieve return of investment (ROI) from real time tracking by:
improving asset utilization with real-time location of their assets;
improving processes through more transparent real-time visibility;
locating key personnel, like doctors, key technicians;
easier compliance with regulatory requirements;
improving staff safety by tracking people in hazardous work environments.
Real-time location systems have matured and commoditized considerably. Now, an enterprise can get started with plug-and-play real-time location for under $3,000. USD in equipment cost.
Where is Real Time Tracking Used?
The RTLS solution's end-user interface tool is typically a web browser, which enables the monitoring and configuration of views across a wide array of situations and locations. E-mail is a popular means of communication based on system events triggered by an application. Text messaging, telephone calls, message boards, pop-ups and other event-driven communications media are used, depending upon the capabilities of the system. The ability to use APIs that connect common gateways opens the door to a myriad of applications. These applications can either be inherent to the system, provided by other parties or added as custom third-party applications.
Real-time visualization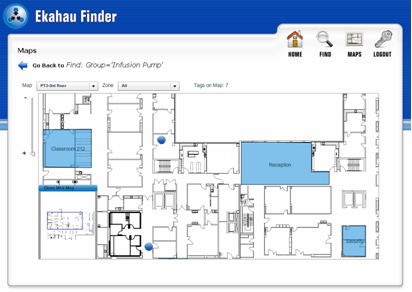 A real-time view gives a dynamic display of tracked objects on floor maps of the location area. The view is practical as a complete overview of the operations, for locating and tracking one or more objects, or for searching a group of objects, such as leased equipment that must be returned. Each tagged item is represented by a unique icon, allowing the end user to get a comprehensive snapshot of everything in that wing or on that floor.
Event monitoring and alerts
With a real-time view, an organization can make better decisions based on the whereabouts of tracked objects. However, to do this effectively, a person is required to monitor the tracked items continuously, which may not be an optimal solution.
For most applications, a practical solution entails use of automated processes for pushing event alerts to end-users. As a result, applications will need features that allow easy configuration of rule-based events and alerts that automate business processes. Event escalation and response requests also can be configured in the system to ensure that the responsible people react to these alerts in a timely manner.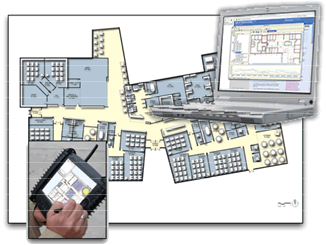 Integration
In addition to packaged RTLS application software, the location data also may be integrated with other enterprise systems such as patient, warehouse or other operational management systems. This integration of location and processes provides end users with useful data for improved and more intelligent decision making. Another benefit is that end users can continue using a system that they are already familiar with as long as it can make use of location information and alerts.
Location
The primary reason for deploying RTLS is to locate people and assets. The obvious benefit is to prevent re-purchase or the over-purchase of assets to cover for those that are merely misplaced. In hospitals, misplaced equipment can impact the quality of care and even endanger lives. Secondarily, the information regarding the location of objects is used for gaining visibility into workflow, enabling users to optimize operations, which in turn improves their processes and margins. And finally, knowing the location of workers – such as miners and first responders – supports and enhances safety initiatives.
Infrastructure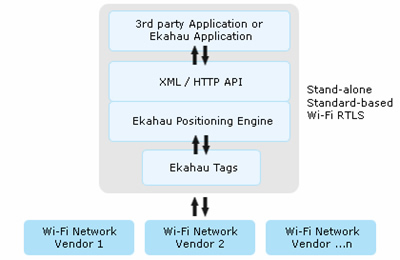 In order to establish location, an RTLS solution must have a way of obtaining measurements from locatable objects in real time. In theory, these measurements can be anything from radio signal strengths to simple visible light. However, the most practical methods use radio signals because they penetrate walls, providing more ubiquitous coverage throughout a campus.
Almost any type of radio can be used to gather these measurements, but deployment becomes more cost-effective if existing infrastructure can be leveraged. Wi-Fi (802.11) networks have become a standard infrastructure for many RTLS deployments because existing wireless access points can be used for location reference purposes without impacting other services or functions on that network.
Location accuracy
RTLS systems use various methods to determine the location of an object. The reported location by an RTLS system is rarely the exact location of the item, but rather an estimate of the location based on the wireless signal strength or some other sensory data. The quality of this estimate is the location accuracy of the system. Accuracy is dependent upon several factors, such as:
the location algorithm in the RTLS,
the location environment,
the network infrastructure, and
the devices or tags to be tracked.
The best RTLS system optimizes the location accuracy for the given environment with minimal cost. Minimally an RTLS system should be able to locate objects within room-level, three-to-five meters of accuracy 90 to 95 percent of the time using a Wi-Fi network that has access point density designed for enterprise-class usage. Of course, accuracy can be achieved in one-to-three meters in ideal environments, but room-level accuracy, particularly in hospitals, is a must-have with any RTLS system.
Location timeliness
One issue impacting location accuracy is the timeliness of the location estimate. Because tracked objects - such as people – are constantly moving, latency in the estimate translates into a less accurate outcome. Timeliness becomes very important especially with safety related applications. If the system reports a location estimate with a 30-second delay, the object or person may have moved to another floor in that time, or the security personnel that came to the reported scene may miss the situation completely. Latency for an RTLS solution should be less than one second.
Scalability
As location systems evolve, more and more objects are being tracked across larger campuses or geographically dispersed areas, which puts pressure on an RTLS system's scalability and computing speed. Scaling of the positioning area also generates problems, if the RTLS system has not been designed to scale to larger location areas. Using a campus-wide positioning model (several million square feet) tracking 20,000 devices concurrently, a well-designed RTLS solution should be capable of providing more than 800 hundred location estimates per second simultaneously on a standard enterprise server. The ability to balance tags across multiple servers should be a pre-requisite for growing a system that can track hundreds of thousands of assets.
Communication
The same Wi-Fi network that serves as the backbone for location tracking is being used for voice, data and video communication, as well. The amount of traffic generated by the location system is not an issue for today's networks. The packets sent by the tag are very small and, in most instances, the tags can be set to report their location only after being moved so they do not constantly use network resources.
Remote activation of tags
With bi-directional communication in place, tags can be remotely activated and configured. Two-way communication enables a tag to have audible/visual indicators, such as ring tones or LED lights that can be used to help find an object. One or more push buttons on an RTLS tag can drive workflow applications such as supervisor requests, maintenance requests and asset status, to name a few.
Tag messaging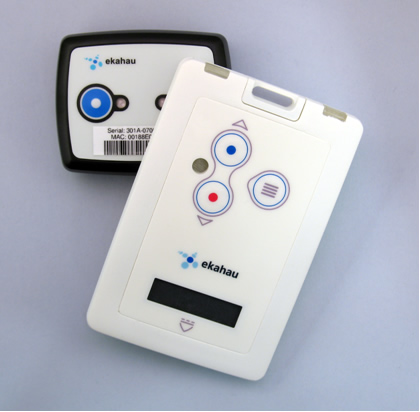 Advanced RTLS tags are capable of sending and receiving short text messages. This type of messaging capability supports a wide array of applications that allow personnel to communicate using small radio tags cost-effectively over the Wi-Fi network. Text messaging enables a number of new interactive RTLS applications, such as sending device status (e.g., ?utilized,? ?needs maintenance,? etc.), paging personnel and sending security or workflow related alerts with codes or other instructions.
Additionally, a messaging tag or badge may interact with back-end applications. For example, a device status or simple ?find item? feature can be built into the badge, where the user selects an item that he or she wants to locate on the tag?s scroll-down menu, and the system responds with a list of items that are nearby.
Remote configuration of tags
RTLS tags are small computers that have a radio interface, software and a basic user interface. The tags run simple software routines for specific tasks, such as reporting location upon motion or stopping motion, reporting in at timed intervals, entering sleep mode, between scheduled events, tamper events, configuration changes and receiving new instructions from the engine, among other applications. The ability to remotely configure a tag or group of tags over a wireless network provides flexibility for RTLS applications so that the system can change in response to evolving requirements.
Systems management of tags
Communicating with thousands of tags in a wireless network requires proper systems management for ensuring that the tags and the network smoothly interoperate. Such management must happen automatically in the background. The system must be able to alert administrators to events such as tags that have low battery levels or that they are being inadvertently removed from an asset. Tag management is required for managing tag configurations when there are changes in the network infrastructure, such as when network parameters are altered.
System cost
The total cost of the RTLS solution includes software licenses; possible location hardware, such as readers and sign posts; cabling; as well as planning, design, and deployment costs. These direct costs are easy to measure. However, it is more difficult is to measure the hidden costs in maintaining the system. Below is an outline of all costs that must be considered when deploying an RTLS solution.
Hardware costs
Hardware costs consist of the RTLS tags, as well as optional location readers, sign posts, chokepoints and other proprietary hardware. If the system uses the existing Wi-Fi infrastructure for location tracking, the hardware cost consists of tags only. Entry-level tags with buttons and LEDs typically cost under $50 each. Advanced tags with messaging and rechargeable batteries are more expensive.
Some RTLS and active RFID systems cannot provide high accuracy throughout an entire campus using Wi-Fi. In those cases, additional hardware is needed to bolster coverage in critical areas. This hardware typically consists of radio frequency (RF) or electromagnetic reader gates or portals that have a very short range and locate the tag within the close proximity of the device.
However, these devices add to the system cost and installation of the devices interrupts daily routines in the positioning area. For example, in a hospital setting, the installation of additional equipment and cabling disrupts the daily operations and sometimes compromises patient safety. In some cases, installing extra equipment does not necessarily provide 100 percent read accuracy as the orientation of the tag, distance between the tag and the reader, or interference may prevent positive identification of the tag. Furthermore, some industries require regulatory inspections and approvals in areas where there has been any type of system installations which involve drilling holes, moving ceiling tiles or installing low or high voltage cabling.
Organizations using optional readers also should maintain an additional hardware inventory of spare infrastructure as well as mounting brackets, cabling, termination panels and other hardware in the event the system layout needs to be altered or any part of the proprietary network fails or is rendered inoperable.
In some cases, more access points may be needed in a Wi-Fi network to improve RTLS system performance. Such an instance typically involves an area of a building or floor that does not sufficient coverage for other data or voice applications. In these instances, the addition of an access point or two, would not only improve the performance of the RTLS system, but will improve the overall network coverage for other applications as well.
Software costs
Software costs include the end-user application software and server software. When the software license cost is based on the number of tracked items, the cost scales linearly with the actual benefit and financial return of the system to the organization.
Deployment costs
The deployment of an RTLS solution requires creation of a positioning model based on a Site Survey of the customer?s wireless network. While the Ekahau RTLS solution is vendor agnostic and relies on software only, installing additional equipment, such as readers, signposts and sensors, may sometimes be necessary with some systems to achieve minimally acceptable location accuracy.
Almost all RTLS vendors use some type of radio frequency technology as the location infrastructure backbone because radio waves penetrate through walls and provide ubiquitous coverage. These systems typically require wiring or a connection to power and an Ethernet backbone or connection to a Wi-Fi network. Most commonly, the corporate Wi-Fi (802.11) network is used for location tracking applications. By using the existing Wi-Fi infrastructure, an organization can save in deployment costs since a secondary infrastructure used only for location tracking is not required. The organization can continue to use this same Wi-Fi network for its data, voice and video, as well, with few, if any, changes. If more access points are required within the Wi-Fi network, these additions also benefit other uses of the network such as data and voice communications.
Another benefit provided by Wi-Fi is the fact that the Wi-Fi signals bleed into outdoor areas around buildings. This signal bleed can be leveraged by an RTLS system to track objects in outdoor areas in large campuses without adding any cost to the network or infrastructure.
To achieve the best cost-performance results, the preferred method is to use the existing Wi-Fi network with minimal infrastructure additions (such as chokepoints, controllers and readers). The short- and long-term benefits are obvious as is the impact of not having to manage an entirely separate infrastructure.
Deployment tools
Without complete visibility into the Wi-Fi network, and the tools to optimize the 802.11 performance, it is challenging – if not impossible – to deploy a high-performance Wi-Fi location tracking system. Therefore, professional deployment tools, such as a wireless site survey tool with a full RTLS deployment support, are required to achieve optimal results.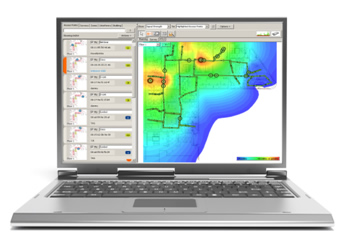 Prior to the actual deployment, the proper type of software tool can tell exactly how ready the existing Wi-Fi network is for the RTLS use. A byproduct of this survey is a complete health check of the network that directly benefits other applications, such as voice, video and data. Based on this initial "location survey," the Wi-Fi network can then be fine-tuned to ensure reliable and accurate use for asset and people tracking.
The most basic Wi-Fi RTLS deployment project is a three step process:
Perform the Wi-Fi site survey to verify that the network is ready for RTLS;
Install the server software and application software; and
Tag assets and people.
After these steps are completed, the RTLS solution should be capable of providing real-time information on displays and printed reports. Through APIs, the system input should now also be ready to integrate with the existing enterprise back-office system as an event-driven comprehensive system.
Cost of ownership
When looking at the cost of operating an RTLS solution over several years, the ease of use, reliability and system maintenance becomes critical. The system needs to continually adapt to the needs of the organization using it. It must be able to accommodate new applications, scale to handle a growing coverage area, including additional locations and more tagged objects. As a general rule, software-based systems provide better cost of ownership over the long run compared to proprietary hardware.
Other ownership considerations include the ability of the system to accommodate a long-term Wi-Fi strategy where users may upgrade their system or switch vendors over time. The RTLS system must comply with this requirement to protect the RTLS investment for years to come.
Summary
Real Time Location Systems are gaining acceptance as an adjunct and alternative to Active RFID systems. While Active RFID systems have been around for more than a decade, these systems have not really taken off because of their proprietary nature and high infrastructure costs. In contrast, Wi-Fi based RTLS solutions are characterized by low implementation cost, ease of installation, superior accuracy and light training and maintenance costs.
The closer a system comes to a "pure play" software solution, the more dramatic are the advantages expressed above.
This paper has sought to describe the characteristics and advantages of deploying a Wi-Fi based Real Time Location System. Many factors must be taken into consideration when selecting a location tracking technology and vendor. But there are ultimately three keystones that can help any organization make a sound decision:
Open – Is the system based on real industry standards that will future-proof your investment? Or will you be locked into a vendor's proprietary system and pricing for the long term?
Easy – Are you able to implement the system with minimal disruption to your operations low support and management requirements as well as minimum training for staff? Does the solution fit into your way of doing things to facilitate adoption by your personnel workflow? Can the system be easily scaled to meet growing demands within your organization? Is the system mature to the point that the tools are intuitive and easy to learn and use?
Accurate – Does the system deliver consistent and accurate location results that immediately help your personnel improve processes, spend less time searching for assets and improve the profitability of your business?
This article was originally written while consulting for Ekahau, Inc. and parts are Copyright Ekahau, Inc. 2000-2008. All rights reserved. Ekahau, Reprinted here by permission.